More than 50 million Americans suffer from allergies each year, and if you're one of them, you know how miserable it can be when you're dealing with the symptoms. For some people, sneezing and sniffing can get so severe that medication is the only way to get through the day. While wind conditions and other weather events can have an impact on your affliction, your home might be a haven for allergens. Here's how carpet cleaning for allergies could help you breathe a little easier.
Deep Cleaning to Remove Allergens
Thick carpeting might seem like the wrong floor covering for allergy sufferers, but it can actually act as a filter to remove irritants from the air. Like all filters, your carpets will eventually reach the point where they can no longer trap particulates, which keeps them suspended in the atmosphere. A hypoallergenic carpet cleaning goes much deeper than an old-fashioned shampooing that simply saturates the area with soap and water. The carbonized bubbles attach to each individual fiber to lift as much as 97% of dirt and allergens away, which could allow your carpet to resume filtration.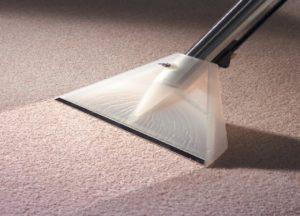 Less Water
When you get a dry carpet cleaning for allergies, technicians use significantly less water, which is good in three ways. First, it's better for the environment because of its decreased use of detergents and liquid, which means fewer chemicals end up in streams and rivers. Second, you won't have to wait days to walk on your floors again because drying takes a few hours. Third, the diminished fluid use keeps the padding under your carpets from saturating. When that porous material soaks up too many liquids, it could create an ideal environment for the growth of irritants:
Mildew
Dust mites
Mold
Bacteria
Decreased Residue
Because carpet cleaning for allergies uses fewer chemicals, there's less of a residue left on your floors. You'll feel the difference when you walk on your carpeting barefoot because you won't get the sticky situation that usually comes along with shampooing. If your feet stick to the carpets, imagine what dirt and allergens are doing on the microscopic level. The tacky residue makes your carpet get dirty faster, while also attracting more allergens.
Stop Sneezing Today
If you're sick of suffering from indoor allergies, let Safe-Dry Carpet Cleaning of Germantown help with a specialized allergy treatment for your carpeting. To learn more about how carpet cleaning for allergies works or schedule an appointment, give them a call today at 901-530-8370.